Interested in Bentley? Send us an Imessage! (Or use the contact form at the end of page)
About The Puppy!
Welcome Bentley into your life, a luxurious Black Merle French Bulldog with a personality as unique and sophisticated as his name suggests. Bentley, with his mesmerizing black and gray merle coat, exudes elegance and charm. He's like a living piece of fine art, with a temperament that's just as beautiful.
In Bentley, you'll find a companion who is super chill, sweet, and unfathomably cuddly. His laid-back demeanor makes him the perfect snuggle buddy, ready to curl up beside you after a long day. Bentley's sweet nature is akin to a gentle caress, soothing and full of affection.
This little guy's presence in your life is like a calm, comforting whisper. He moves through life with a serene confidence, bringing a sense of peaceful companionship to every room he enters. His laid-back attitude makes him an ideal pet for families or individuals seeking a low-maintenance, loving friend.
Bentley will be ready to bring his unique blend of calm and charm into his new home soon. He's waiting patiently to start his journey with you, filled with serene days and affectionate nights.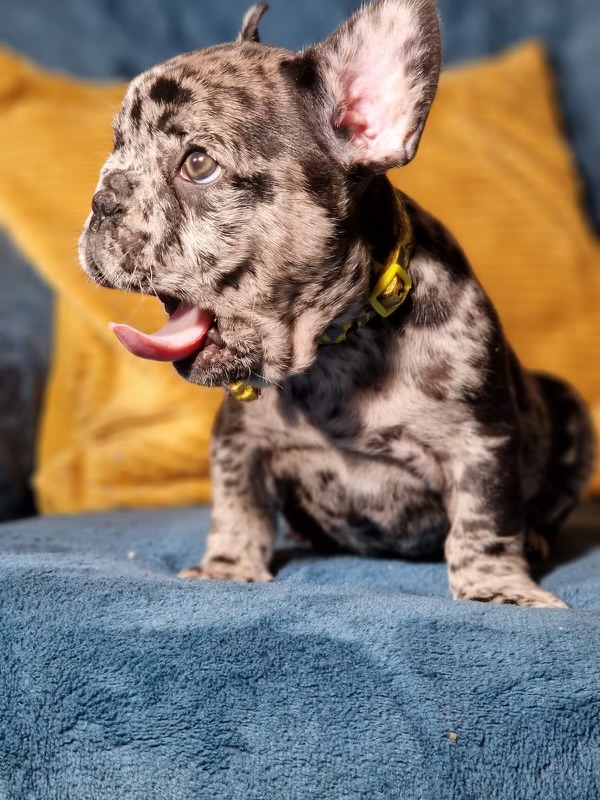 How it works (How to Apply)
Step 1 - Use the Chat!

Step 2 - Facetime/Zoom Interview

Step 4 - Delivery! (when the puppy is ready)
Financing Options:
We are not a bank, but if you need financing there are options including the link below. If you are considering financing we would seriously ask you to consider adopting from a shelter first! However if you've made up your mind, and nothing will get between you and your furbaby Click Here to Apply with Terrace Pet! .